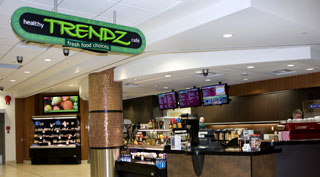 Company Overview:
Alberta Health Services is the provincial health authority responsible for planning and delivering health supports and services for more than 3.5 million adults and children living in Alberta. Its mission is to provide a patient-focused, quality health system that is accessible and sustainable for all Albertans.

Project Scope:
Alberta Health Services was looking to install a digital menu board system at their Healthy Choice Trendz™ café at the Mazankowski Alberta Heart Institute with the main goals of reducing costs, creating an engaging customer experience and promoting healthy eating habits.

Mirada Media's Solution:
Mirada Media Inc. addressed the needs of Alberta Health Services with an integrated digital menu board solution composed of our Channelview system, a commercial grade media appliance preloaded and configured with the CV Player software along with three 40″ commercial LCD monitors by Samsung, displaying menus and dynamic HD content. This system allows full control of the content as well as the screens, from our office in Anjou.
The system also includes the MenuView content management system. This CMS allows to update food items and pricing, change featured items and manage your dayparts.
The health services provider had much success replacing the traditional hospital cafeteria food with healthier fare under the Healthy Trendz brand and wanted to bolster their efforts with their menu boards. A portion of the three-screen menu system is dedicated to providing this 'engaging' experience by featuring a loop of animated tips, promoting a healthy lifestyle and better eating habits like low-sodium foods and meals containing whole grains.
For more information on our client, please visit: