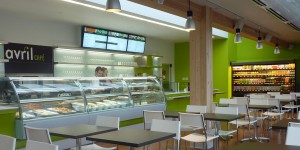 Avril health food supermarket opened its 3rd location at Quartier Dix30 in Brossard, QC on 10/10/2010 with a few Mirada Media installed digital signs.
Combining the 'natural lifestyle' with an avant-garde design, the new health store features a digital menu board in its café, video boards in its produce and cosmetics sections promoting their products and deals, and a screen in its demonstration area with current and upcoming events.
We'll have more details soon but in the meantime you can have a look at Avril's press release.