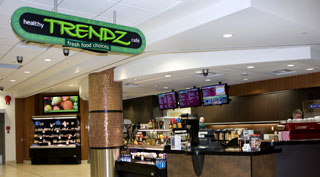 We added a quick client focus piece on a recent digital menu board install for Alberta Health Services at their Trendz Cafe in the Mazankowski Alberta Heart Institute of Edmonton, AB.
A portion of the three-screen menu system is dedicated to providing an engaging customer experience by featuring a loop of animated tips, promoting a healthy lifestyle and better eating habits like low-sodium foods and meals containing whole grains.
We're seeing a big increase in interest for digital menu boards in the QSR industry. On-the-fly reactions to inventory and promoting featured items in the queue to more unique applications like displaying a live video feed of the kitchen are just some of the benefits restaurant owners are getting—AHS added promoting wellness to that list and we're proud to have taken part in the project.