Digital Signage Feature Technology: NEC LCD4620 Tiled Video Wall Display Solution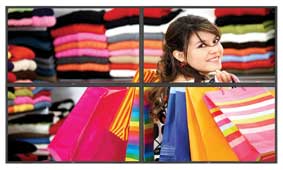 Easy-to-configure video wall for dynamic digital signage
NEC's LCD4620-TMX4 is a complete video wall solution that combines four ultra-thin bezel 46" LCD panels with all the necessary accessories to create a 2x2 tile matrix. The near seamless video wall is a cost-effective solution when you need "big" digital signage and information displays.
There are three main issues when setting up a video wall with flat panels -- bezel thickness, color matching and mounting -- and NEC's TMX4 package takes care of them all. Firstly, the LCD4620's 16.5 mm bezel along with NEC's proprietary TileMatrix and TileComp technologies reduce the "window pane" effect of placing the panels side-by-side, make your video look more natural by compensating for the thickness of the bezel, and eliminate the headache of figuring out how to feed in the video by incorporating a hardware scaler. Secondly, NEC's commercial-grade LCD's incorporate a 6-axis color control engine that allows for precise and simplified color, color temperature and saturation adjustment so that you can make sure the image on each panel is the same. Lastly, the package includes a specially-built Digital Factory PerfectAlign™ Mounting System so that setting up and aligning your video wall is almost as easy as mounting a single screen to a wall.
The 2x2 LCD TileMatrix Video Wall Solution Contains:
Four (4) NEC MultiSync LCD4620-2-IT 46" LCD panels
A Digital Factory PerfectAlign™ Mounting System
Premium quality Extron® cables to provide uncompromising high-resolution signal distribution
One (1) Tripp Lite Isobar6 surge suppressor that features six outlets and a $50,000 ultimate lifetime insurance
For more information on how the NEC MultiSync LCD4620-TMX4 Video Wall Soultion can meet your digital signage needs click here for the brochure, or contact us for a quote.
---
Digital Signage Feature Technology: NEC Multeos HD LCD Panel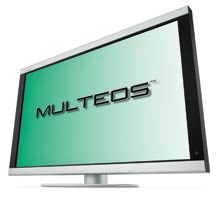 The consumer display panel with business grade specs
The new Multeos series of multi-function LCDs by NEC is the perfect solution whether you're the prosumer looking for a designer centerpiece in your high-end entertainment system or the sales professional that wants to enter a new age in visual communication. The M40 and M60 units provide full 1080p HD resolution (1920 x 1080) in 40" and 46" respectively. The LCD panels feature interchangeable silver or black bezels for a sophisticated look and thermostatic cooling protection to extent the unit's life in high-demand digital signage applications. In the near future, 32", 52" and 57" models will be also be available.
Digital Signage Applications for the NEC Multeos
The NEC Multeos series is a powerful addition to several types of digital signage installations with its refined yet extroverted looks that attract people's attention and adapt seamlessly to even the most complex architectural layouts. The Multeos fascinates in various environments -- as a stand-alone solution on an elegant aluminum stand, mounted or in multi-display installations.
Digital signage installations that include the NEC Multeos provide:
A strong brand presence in flagship locations and designer boutiques
A fashionable focus point in bars, restaurants, hotels and fitness clubs
An image carrier in business conference rooms and lobbies
Digital Signage Solutions Featuring the NEC Multeos

Flagship Stores & Boutiques
Click images to enlarge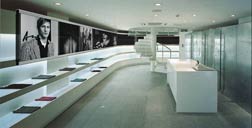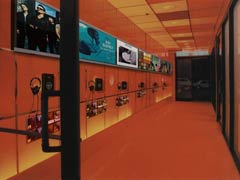 Digital signage using Multeos LCD panels is an excellent option for your high-end and trendy clothing boutique or shoe store if you're looking to promote your brand image and products. In contrast to the functional design of professional panels, the elegant look of the Multeos integrates perfectly with modern boutique architecture without having to use costly enclosures. The Multeos also works well in music or consumer electronics stores to act as an attractor to interactive kiosks, listening stations or product displays. The images above also showcase the Multeos' ability to create a "seamless" effect with its innovative bevel design.

Bars & Restaurants
Click image to enlarge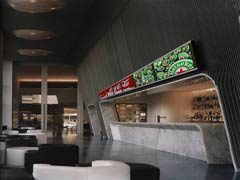 Your restaurant, bistro or café will benefit from the Multeos' design and multi-panel seamless bevel effect by providing a look of continuity to digital menu boards.

Conference Rooms & Lobbies
Click images to enlarge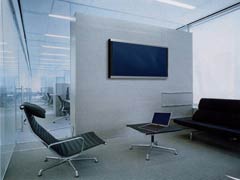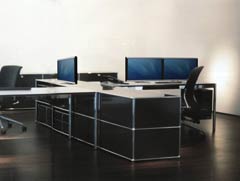 For more information on how Multeos LCD panels can meet your digital signage needs click here, or contact us for a quote.
---
Digital Signage Feature Technology: NEC WT610 Projector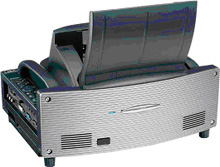 Goes where no projector has gone before
Able to project 100" diagonal images from a mere 26" away from the screen due to its revolutionary lensless technology, the WT610 maximizes precious space in commercial environments with ultimate versatility. Enhanced color depth and a 3500:1 contrast ratio allow display graphics to deliver their message with power and beauty.
The WT610 also incorporates NEC's ImageExpress wired and wireless networking technologies for the ability to communicate from a PC to the projector through a wired LAN system using a 10-base or a wireless system via Wi-Fi 802.11g. The wireless option lets users place their laptop anywhere in the room and switch between presentations on multiple laptops with the touch of a button.

In addition to NEC ImageExpress, the NEC WT610's networking capabilities allow a system administrator to access the projector to handle remote diagnostics and control, and to provide for real time source display and email troubleshooting notification.
| | |
| --- | --- |
| > | 2000 ANSI lumens |
| > | XGA 1024x768 native resolution |
| > | World's shortest throwing distance |
| > | Networking capable |
| > | Project on almost any color wall |
| > | Ceiling mountable |
For more information on how the WT610 can meet your digital signage needs click here.