Mirada Media Digital Menu Boards Increase Flexibility & Customer Engagement at Toronto-Based iQ Food Co.

QUICK FACTS
Who:
iQ Food Co.
What:
Start-up QSR serving good food that inspires people to do good.
When:
March, 2011.
Where:
Toronto, Ontario, Canada.
Why:
Rapid product changes, day-parting and seasonal offerings, to enable a more engaging customer.
The challenge
iQ Food is a new concept take-away restaurant located in downtown Toronto, Canada. As a start-up venture, iQ's menu selections and branding messages are constantly evolving, which necessitates a flexible, efficient, and aesthetically-pleasing menu solution. iQ's founder, Alan Bekerman, realized that static menu boards would not be as efficient and effective delivering regularly changing menu information to customers. He ultimately chose digital menu boards over static paper-based solutions because digital menus accommodate rapid product changes, day-parting and seasonal offerings, enable a more engaging customer experience, and fit the company's mission of going paperless.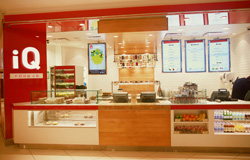 Photography credit: Tierney Read
The installation
Montreal-based Mirada Media installed a custom-designed digital menu board system featuring four stainless steel-framed 46-inch LCD screens hanging from the ceiling in portrait orientation. There is also a smaller, 32-inch employee-facing screen connected to the point-of-sale system. Three of the 46-inch screens display menus with different day parts, and the fourth screen displays a rotation of animated branding messages and features a dynamic message section to push clients to engage further with iQ via social media.
Strategic flexibility
For a start-up venture, flexibility and adaptability to changing customer desires are key success factors. iQ Food's founder, Alan Bekerman, "knew that over the course of the first several months, [their] entire model (and menu) would be tweaked: popular items would be heavily promoted and the dogs would be pulled." iQ is able to respond and evolve by changing the menu on the fly with a digital menu solution. There is no time lag associated with waiting for printing, shipping, and installing updated menu panels: changes can either be done dynamically in the CMS or designers can tweak the menu.
iQ is also able to easily "A/B test" its product offering and price points. Changing prices with a digital menu system is easy, instantaneous and costless. In contrast, repeated A/B testing using paper-based menus is extremely time- and cost-intensive, with each experiment requiring two prints of each menu plus installation time.
Operational flexibility
iQ offers a wide variety of seasonal and locally-produced items. Mr. Bekerman notes that "offering seasonal products is at the core of what we do. Using Mirada's platform allows us to promote seasonal offerings in a seamless and highly time-efficient manner." iQ would not be able to feature these items with static menus because they change quite often and vary greatly from supplier to supplier. However, with a digital menu system, iQ can quickly add new products to the menu as they come in, or remove items that are out of stock due to supply chain issues or seasonality.
In addition, iQ has plans to extend their hours and serve breakfast. Day parting is easy with a digital menu system: templates are already built to accommodate menu expansion and display changes can be automated via Mirada Media's MenuView content management system. The system also allows for various promotional windows, such as limited-time offers, or specials on certain products on certain days of the week.
Lower cost of ownership
Having a digital menu system can drastically reduce total cost of ownership, particularly for new restaurants that make many modifications to their menus in short periods of time. Creating a new static menu can cost thousands of dollars in design and printing expenses, which, for a start-up venture such as iQ, can quickly become prohibitive and discourage innovation. Instead, with a digital menu system, iQ is able to modify their menus at little or no cost. They are also able to take advantage of displaying two independent streams of content from one PC, resulting in efficient software utilization and reduction of hardware costs by 50 percent without any effect on the final performance of the system.
Enhanced customer experience
Building a strong brand through a consistent, high-quality customer experience is paramount to any retail operation. Mr. Bekerman adds that "At their core, successful restaurants (both full and quick service) need to strike an emotional chord with their guests." In addition to providing basic product information, menus can serve as middle media to foster brand loyalty, encourage repeat visits and purchases, and drive clients to other channels (particularly social media like Twitter, Facebook, and Foursquare). Clients always look at the menu board, and communication can be achieved in a more casual manner. One example is that iQ customers can tweet their favourite songs and have them heard as part of a fresh daily playlist at the restaurant.
From an aesthetic standpoint, according to Mr. Bekerman, iQ wanted "to utilize the digital boards in way that was more complementary than obtrusive. [They] went out and produced custom made stainless steel frames for the boards. The end result is a highly clean and striking visual that is at the center of brand."
iQ intends to continue evaluating the impact of the new digital menu solution on product sales and customer experience. As regards initial indications of success, according to Mr. Bekerman, "The system has been exceptionally well received."
About iQ Food Co.
iQ Food Co. is a healthy take-out concept conceived by entrepreneur Alan Bekerman. Inspired by the iconic brown bag lunch, iQ Food Co. crafts nutritious, authentic food for people on the go. iQ Food Co. believes in "good food that inspires people to do good" and focuses on scratch cooking using whole and natural ingredients. iQ's first outlet, designed by internationally acclaimed II BY IV Design Associates, opened in Toronto's TD Centre in March 2011. The Company plans to open 3 additional stores in 2012.
About Mirada Media
Mirada Media is a Montréal, Québec-based full-service provider of digital signage technology and creative design services. The company has extensive expertise in content design and efficient digital signage network management. Mirada Media also offers marketing strategy services and multimedia design that complement any digital signage initiative. For more information about this press release or the digital signage industry, please contact us.